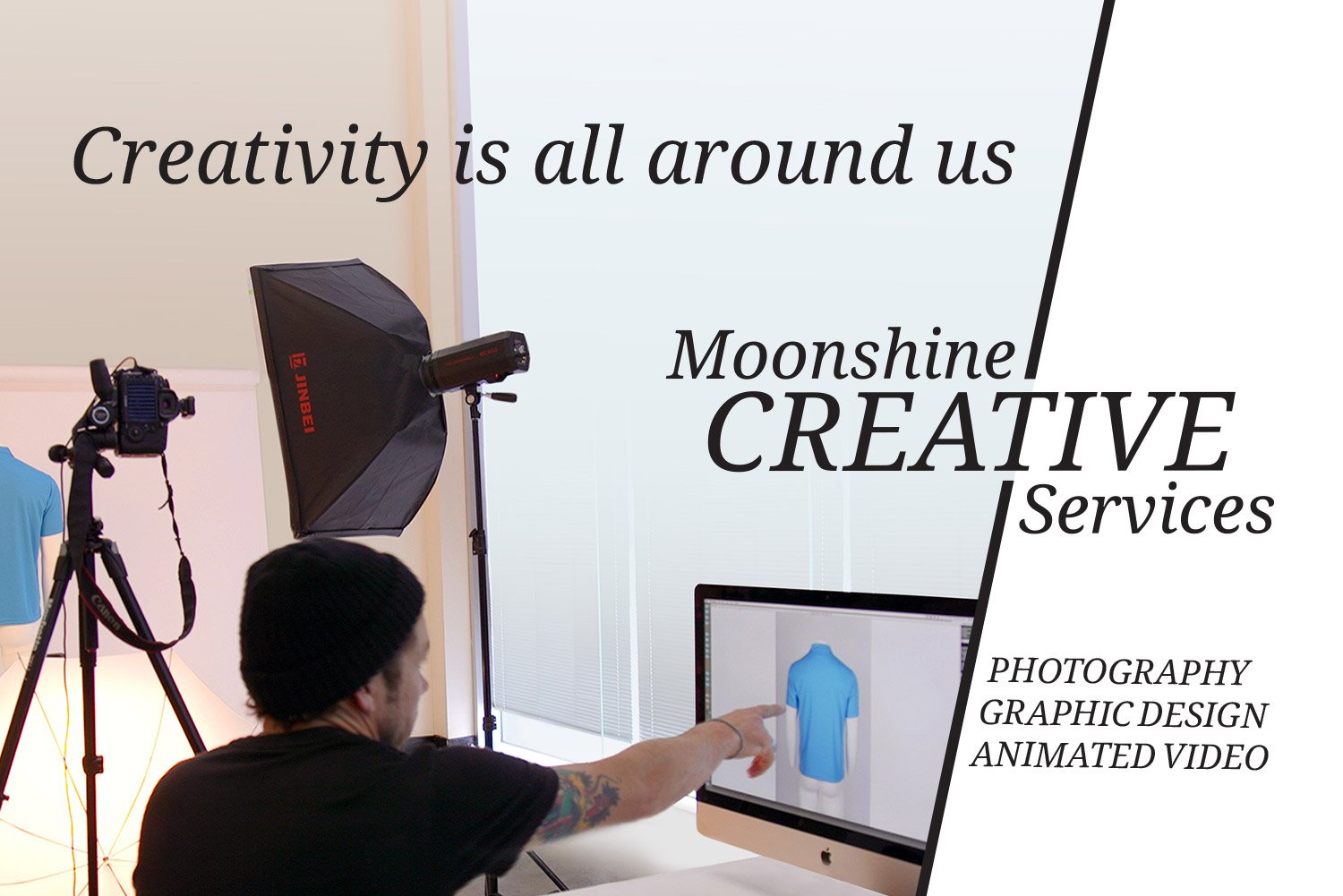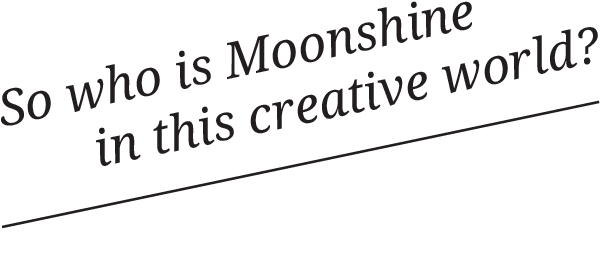 Moonshine is a specialist agency focused on telling stories through visual communications like film, video, animation, graphic design and photography.
At Moonshine, we're passionate about creating visual campaigns & images that tell your story.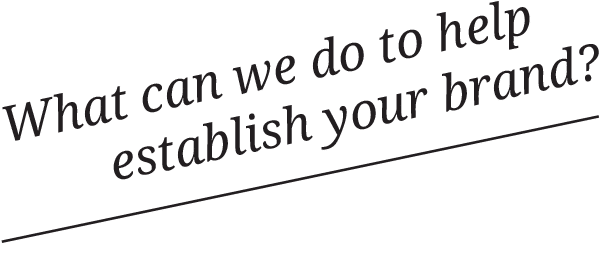 It's not just about creating a logo and stationery.  We will establish your brand, not just design it!  Through engaging photography, creative design and animated video we will get people to notice and recognise your business.
The key is to stand out from the crowd.
As specialists in visual communication we work with our clients to understand their business objectives, marketing/communication needs and audience.
Use our photography services to capture your latest product range, event or story.  Package that into a coherently designed vision with Moonshine's Graphic Design service, and present it using one of our creative and engaging Animated Videos.

Get your message out in the form of photos, design and animation.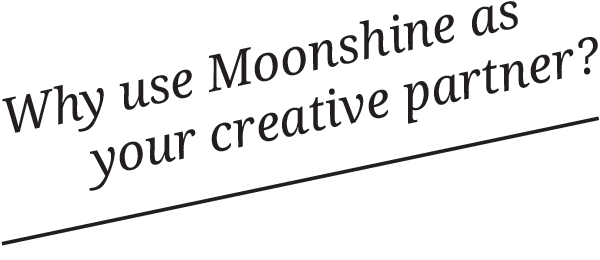 At Moonshine Agency we are constantly developing creativity through a full range of services.
We combine these elements to create a collection of assets for all your web, print and video platforms.
Combining our knowledge and experience gives us the ingredients to produce high quality content for web, print and video.  This is aimed at improving your brands' presence, promotion and sales through a range of visual  assets that generate results.
Use Moonshine Agency to establish your brand!
Contact us today to discuss any of our creative services.

Get flashy and bring your story to life!
Moonshine Agency is a creative agency that specialises in shooting high quality photographs of product, people and places.
What can we do for you?
Moonshine Agency provides competitively priced, high quality product photography with fast turnaround times.
Whether it's for your marketing campaign, online store or catalogues, Moonshine Agency is set up to deliver high quality product photography, e-commerce images and fashion photography that meet your brands needs and requirements.
Our photography services include Studio Photography, Product Photography, Flat-lay Photography, Ghost Mannequin Photography, Look Book Photography, Campaign Photography, Catalogue Photography, Fashion Model Photography, Portrait Photography, Location Photography, Event Photography and Photojournalism.
Why use Moonshine Agency?
We specialise in full service, high-quality studio product photography including ghost mannequin, modelled shots, and flat-lay.
We've shot with several of Australia's leading retail brands and offer both in house and on site services depending on your needs.
Our portfolio includes commercial product photography, clothing and fashion photography.  See a wide range of our past work here on the Moonshine Photography Page.
Where is Moonshine Agency's photography studio?

Our post-production office, based in Melbourne, has a fully equipped in house photography studio with plenty of space that's adaptable for a wide range of shoots and includes a cyc wall perfect for product photography.
How do I book a shoot and how much will it cost?
Contact Moonshine Agency today for a quote on any of our Photography Services.
Creativity is at the core of graphic design!

At Moonshine Agency we use creativity to connect and communicate with people.
Our graphic design services offer dynamic, creative, and practical graphic design services at affordable prices.
Why use Moonshine Agency?
We work with you and your business to create design solutions that are a visual representation of your ideas and key messages. By combining typography, photography, illustration and video we will help your business stand out from the crowd.
Moonshine Graphic Design services include branding or re-branding, logo design, print design, business stationery, website design, document design, brochure design, promotional flyers, Electronic Direct Marketing design, motion graphics and title design for video and animation.
What's next?
Contact Moonshine Agency today for a quote on any of you Graphic Design needs.
What do our clients say?
"We are delighted with the brandmark and style guidelines recently provided by Moonshine . Moonshine helped us to develop imagery which represents our values and commitment to collaboration. The design process was transparent, timely and enormously rewarding."
Dr Rosemary Wyber
"In my role as Company Secretary of Globe International Limited, I have worked closely with the Moonshine team for several years on the provision of corporate services including document design and production of the company's annual report, notices of meetings, and upkeep of the corporate website. My experience has been extremely positive thanks to the professionalism, dedication, attention-to-detail, confidentiality and flexibility the Moonshine team has consistently provided."
Gerhard Correa
"Moonshine have taken us to a whole new level in communicating with our stakeholders and clients.  They design and publish an imaginative, professional and highly effective electronic newsletter linked to updated information from our website and backed by a comprehensive database. Even better, it is completely user friendly and enables us to manage our communication, marketing and branding opportunities how and when we want them."
Sue Maslin

We're watching more and reading less!
Moonshine Agency uses animated videos as an amazing way to bring your brand message and assets to life.
Animated videos are an exceptionally efficient way of communicating complex ideas.  If your product or service contains many moving parts that need to be explained, animated videos are the way to go.
These videos must make their point quickly and clearly.  Moonshine does this through good planning, storyboarding, scriptwriting and creative execution.
Videos should do more than just convey information – they should tell a story…

At Moonshine Agency we can work with you to create affordable video explainers using text, graphics and images that tell your story through dynamic animation.
Our animated video services can include motion graphics, animated titles, sound, voice-over and music.
How do you get started?
If your interested in animating your key messages to tell your story get in touch with Moonshine Agency today to arrange a quote.
Contact us today for a Creative Services quote on
Photography, Graphic Design or Animated videos…
MAILING ADDRESS
Moonshine Agency
PO Box 4035
Richmond, Victoria 3121
AUSTRALIA